Valentines Day is just around the corner and we are pleased to highlight our 2016 Valentines Day Designs created just for this occasion. To ensure you our accustomed quality of service, order early to secure your favorite design and delivery timeframe. Quantities of each design are limited!
Visit our ordering flowers page for additional guidelines, simply email services@fusionartpr.com or call us at 787.409.8368.
Happy Valentines Day!
Spectacular Stargazer Lillies $125
Tall curly willow branches and fragrant stargazer lillies frame 1/2 dozen fuschia roses in this spectacular display of fresh blooms. Including the vintage glass vessel, this design measures approx. 40-48″ H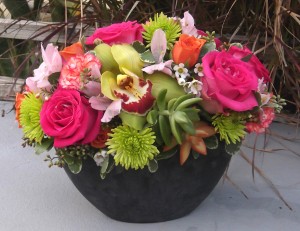 Fanciful Succulents $75
This bright, playful design fancies a pair of succulents, green cimbidium orchid trio, & 1/2 dozen fuschia roses. Plant succulents in the garden to enjoy year round! Approx. 12×12″
Light of my Life $95
Delight her with this creative presentation of a dozen red roses. Seeded eucaliptus foliage and a lilly grass fashioned heart give an exotic touch to this stunning design. Look closely and you will see the vase is a lantern that can later be hung or placed on a tabletop (houses a 3″ pillar candle). Design is approx. 16″ H.
Small Rustic Heart $25
Fragrant wax flower frames a dozen red sweetheart roses. A small token
of love perfect for your favorite valentine! Measures approx. 4×4″" Only available for pick up or as an add on for orders over $55.