Valentines Day falls on Tuesday this year and we are pleased to offer Monday delivery so she can enjoy her flowers all week long.  To ensure you our accustomed quality of service, order early to secure your favorite design and delivery timeframe. Quantities of each design are limited!
Order via email or simply call us at 787.409.8368. Happy Valentines Day!
Red roses, pink and purple astromeria blooms stand to attention in this modern glass vase design. Measures approx. 14″ high.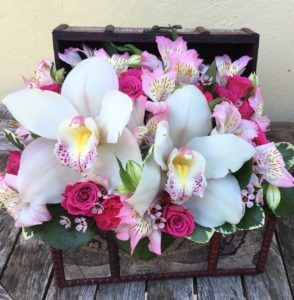 Treasured Love: $64
Exotic cimbidium orchids are paired with delicate spray roses and assorted mass blooms in this vintage looking treasure chest. Sometimes the best surprises come in small packages! Treasured love measures approx. 8″ x 8″.
Fragrant longlasting Concador lillies are flanked by 1/2 dozen red roses, astromerias, & novelty blooms in this lace lined rustic wood crate. Yellow vikingo flowers add rays of sunshine to the mix. Measures approx. 10″L x 6″ W x 10″H.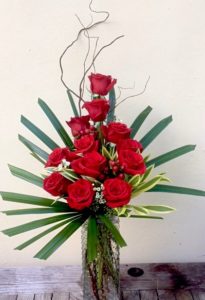 This spectacular design of a dozen red roses in a tall hobnob glass vase is accented by money tree palms and touches of red hypericum berries. An unusual mix of elements for the unique woman in your life! Measures approx, 32″ H.
NEW single rose creation for 2017:
Red rose w/orchids in leaf lined glass cube for just $15
Add this whimsical single rose glass cube to your Valentine order for just $15.  Purple dendrobium orchid pair frames this single red rose in a sea grape leaf lined glass cube.  Perfect add on for your daughter, aunt, grandmother, mother in law or best friend. This design is an add on and not available for delivery on its own. We will have single rose glass cubes available in the store for purchase on a first come, first served basis.